Protecting from advertising programs

---
---
Posted 21 June, 2003
I keep getting adverts appearing on my computer when I'm on the net. What should I do?
The biggest problem we are currently seeing with small business and home computers are advertising programs sneaked onto systems by various downloads and webpages. We've discussed this problem and we are finding it is getting much worse.
Until now, the most common way of getting these things onto your computer was by downloading free software, notably file sharing programs. But we are seeing more and more websites that try to coax you into installing their "partners" software when you visit their site.
This is the typical warning you may see before loading one of these programs.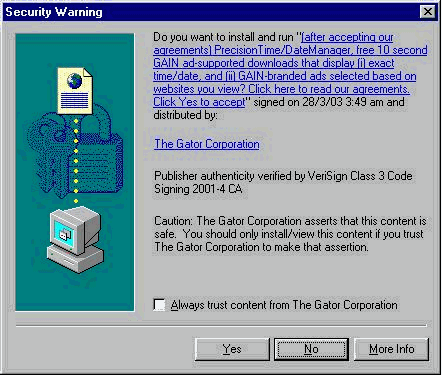 The program you are about to run will run their client's ads on your computer. According to the Gator website, they will also track your usage to tailor the ads. That might be fine by you, but many computer users not want Gator's ads popping up on your computer.
At least Gator ask, most of these programs don't. We find many of them are also badly written so they tie up your Internet connection and computer. Even if you don't care about ads and privacy, the performance cost to your computer may be unacceptable
We suggest you read carefully any warning about installing software that may come up on your computer. If you aren't sure what it is, then check by typing the name into your favourite search engine and see what others have to say about it. A good firewall will stop these programs accessing the net, but may slow down your computer even more as these things frantically try to connect to the net.
We'd also recommend downloading and installing programs such as Adaware and Spybot. These programs will scan your computer to get rid of most of these type of programs. Be careful however, programs like New.net can damage your Internet access if they are not properly removed.
Advertising programs and scumware are a growing problem which all Internet users should be aware of. Be careful of what sites you visit, what programs you download and don't agree to anything you're not sure about. If you're not sure about something, then don't do it and visit another website.
PC Rescue Pty Ltd
Suite 236, 4 Young Street Neutral Bay NSW 2089
ABN 082 635 765
ŠTechnology Publishing Australia, 2011